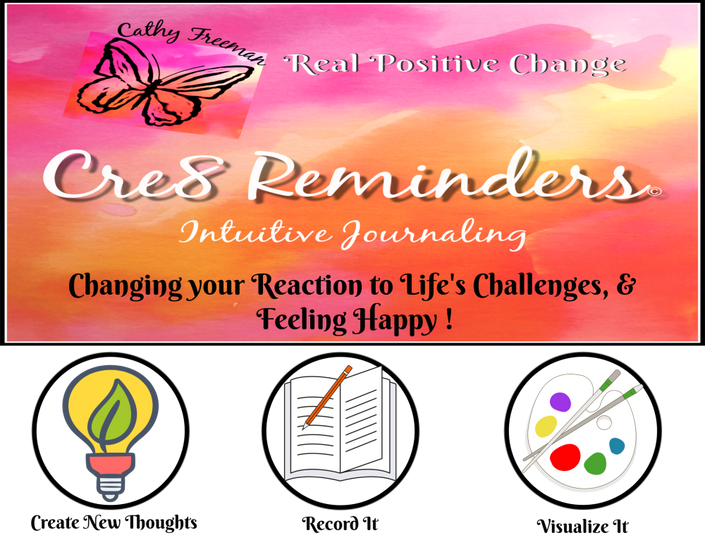 Cre8 Reminders© Program
REAL Relief to Stop Anxious, Over thinking. A POSITIVE CHANGE, & Fresh Start to handle Life's Challenges - A program to Manage stress & Feel GREAT!
Watch Video
THERE HAVE BEEN TIMES WHEN LIFE KEEPS THROWING ME CHALLENGES AND I BEGIN TO WEAR DOWN.....I BEGIN TO SHOW SIGNS OF BEING OVERLY STRESSED.
Stress can be gauged on 3 different levels.
Level 1 stress (handling well)
Level 2 (These are the mental, emotional and physical experiences one might have.)
Level 3 (Body experiencing a chronic disease)
Listed below are common responses to stress. (This is not all inclusive nor is it intended to diagnose)
Locate the ones that are typical for you…they would be considered your "stress signature"
This is not all inclusive, nor is it intended to diagnose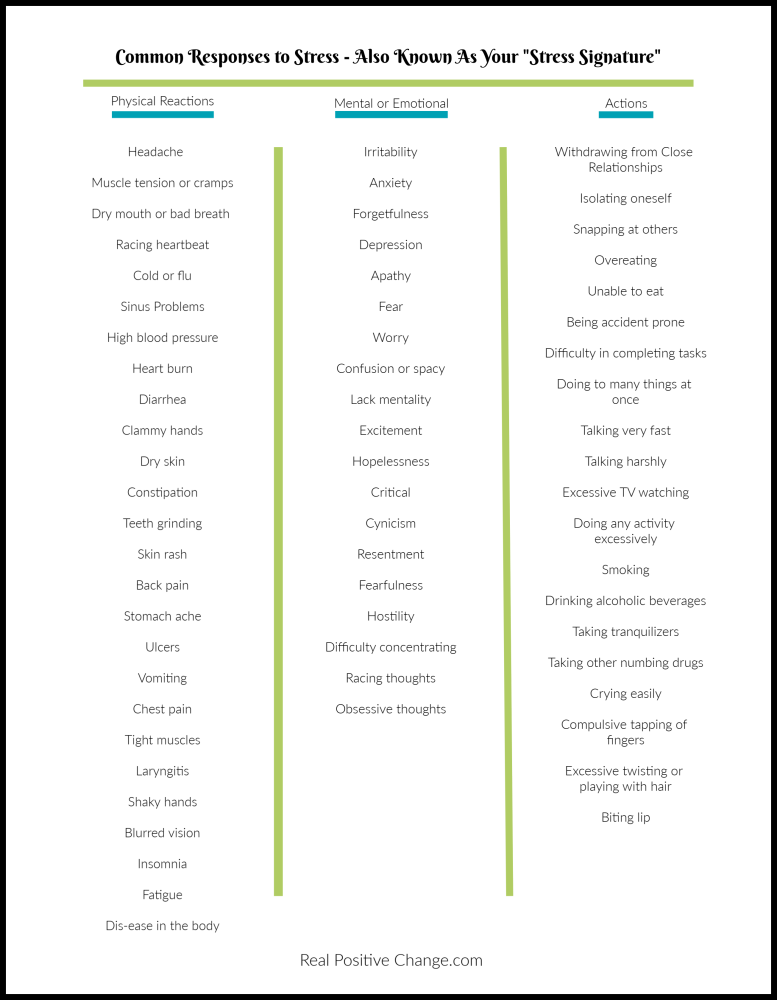 Cre8 Reminders primary function is to lower the levels of stress
The medical field is now stating that 80 percent of disease is stress-related. Prolonged stress on the body can manifest adverse effects such as high blood pressure, heart disease, and muscle pain, changes in blood sugar, headaches, colitis, anxiety disorders, and ulcers.
Science has proven that the human body emits specific vibratory information. These vibrations have a self regulatory mechanism that specify the activities taking place within the body. Our body is incredible; when a cell or molecule gets out of sync, then a signal from a neighboring cell will attempt to guide it back to the correct signal. If a sufficient number of cells become out of sync, then the balance and stability can be lost which leads to disease and disorder.
Your mind is the command center. Each thought affects this vibratory information. Each thought plays a role as to whether these vibrations are maintained in balance or fall out of sync.
Cre8 Reminders© is a process that focuses on initiating a balance by addressing the minds subconscious thoughts. Life music, words carry a tonal quality that can set off a chain reaction of emotions. Emotions are simply chemicals the mind produces to match the concept of what the thought/word represents to an individual. These chemicals can disrupt the natural rhythm of the cell.
Striving to be more in sync with health promoting thoughts and feelings offers support to the body and it's ability to engage its own healing properties.
Take control of the thoughts that are creating symptoms of Stress…
Live your life free of your own personal "Stress Signatures"
Thoughts have energy – a movement, a frequency, an attitude that is felt by others. Initiate a Real Positive Change with Cre8 Reminders© by working with these thought frequencies to restore peace of mind, calmer emotions, giving you more power to create health in your body.
Gaining greater Understanding and a formulating a new mental direction means NO more anxiety. You are free to be what you want… a confident, strong influencer. A person who is capable of building successful relationships. A person filled with greater happiness and feeling a Zest for life. A person who feels greater confidence and ability to reach your goals, and so much more.
Achieving a Real Positive Change is easy through Cre8 Reminder©.. It is the support that changes ordinary to extra-ordinary!
Thoughts effect the "Stay Power" of your Goals.
Who hasn't set a goal, worked diligently toward that goal, and then found that within a few weeks old habits have slipped back in?
Or, the enthusiasm dies and you begin to lose your momentum?

Do

You feel caught in an entanglement of thoughts & emotions.....

like your in a state of chaos?
Chaos is really a period of transition - Cre8 Reminders© helps the process.
Here you will learn how to stop contradicting thoughts which impede your goals. You will learn how to formulate statements that will redirect your actions. The result is greater ability to manage daily stress, giving you greater physical and mental health.
Cre8 Reminders© restores clarity, and peace of mind.
Add it to your Self- Care routine.
With change comes a period of transition, a period of time that is confusing, chaotic feeling, and often misunderstood. The same confused feeling can happen when you enter a new phase of life, or are physically disconnected from what was once familiar and routine. A typical response is a desire to leave, move, or get away from the situation in hopes that new surroundings will create a completely different life for you.
Yes, the feeling of change to a new location will bring a period of relief and motivation; but the truth is, You are still the same person wherever you go, and those feelings you had before you left will eventually surface again. The outside environment may change, but until your internal environment changes, you will make the same choices, attract the same kinds of people, and have the same kinds of experiences. The change you are seeking actually starts by cultivating your internal environment.
Cre8 Reminders© was designed to take you inward, to craft the type of internal environment that will cultivate a happy life.

After 18 years of coaching in the field of Positive Psychology, I know the power of using creativity, and positive reminders to help to reset, renew, and improve the mind
Helping you to have a Fresh Start when life becomes TOO full, & You begin to run on empty - is why I created this membership community. It's a program to Beat stress & Feel GREAT!
I will be teaching you the same techniques and tips I have taught my clients, and that I use personally. These steps will put you in the drivers seat to be successful, instead of "stressful".
This process liberates your mind .....
Overcome anxious thinking, conquer procrastination. Be effective instead of busy. Develop a discipline that can make each day productive.
You can achieve the dreams and goals in your heart by building an inner peace that will transform memories of limitations, humiliations, and defeat, into motivation, drive, and endless possibilities.
James Allen once said, "A person is limited only by the thoughts that he chooses."
How would you answer these questions?
Would you say that your life is more of a mundane routine, than an exciting adventure?
Or
Are the effects of constant stress in life & work showing up as exhaustion, headaches, irritability, or even anxiety attacks?
Well it is time to change that!Cre8 Reminders© - Your New Life Awaits.
Cathy's Community Membership offers.....
The Cre8 Reminders© online training, with added recorded messages and tips sent out to members throughout the month. My goal is to address all the information and details, so as to satisfy the questioning left side of your brain.
The Cre8 Reminders© Creative Journaling course is an online training with creative ideas and techniques to enhance your creative side.
You will have access to these classes (Cre8 Reminders training, Word list, & Creative Journal, & The Artisan's Journey - Stress Relief Routine,) There is also a recorded call, Coached by Cathy, that I post in the membership, as well as other recordings. You will have 24/7 access to these while you are a member.
Your Instructor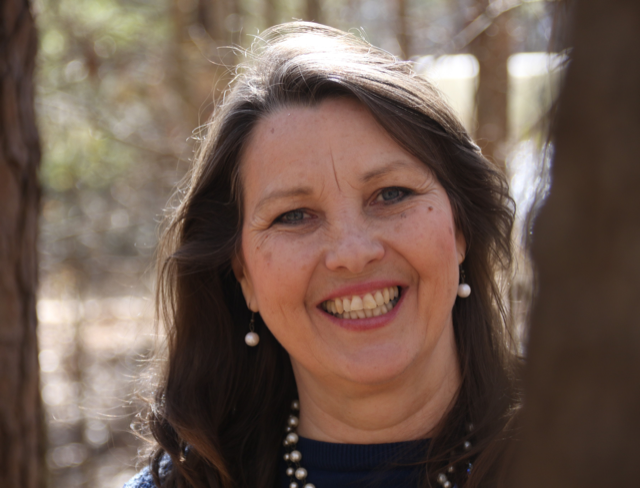 As a child, teen, and young adult, I have always LOVED art. I graduated with a Bachelors in Fine Arts from the University of North Texas.
There is something magical in the power of expression, whether that be through word, visual arts, or music. It is a power that crosses over barriers.
After starting a family, I became interested in the field of Positive Psychology, which lead me to another area of study and then to a coaching practice for the past 18 years.
During that time I began to see a great need for more creativity, in all it's forms, to balance out the extensive, and sometimes over used left side of the brain.
There one may find their inner critic.. (mental messages designed to keep you safe by stopping your ability to feel confident, and be creative)
Only those who develop a routine of daily silencing their inner critic, feel a freedom emerge like the sun coming out from behind a cloud. They feel a liberation to go forward to achieve their dreams and goals filled with a motivation to move forward fearlessly from their heart.
I believe that the gift of expression, and all types of creativity, play a major important role in our health. Being creative brings a feeling of calmness that has been known to stop anxiety. This is why I create these courses.
Read my full story: https://realpositivechange.com/about/
There is ONE thing that is delaying your dreams..critical thoughts...and its time to turn that pain into POWER! Don't let old thoughts bully you out of all you can be, do, experience & achieve!

Videos & Lessons
WELCOME TO THE REAL POSITIVE CHANGE COMMUNITY. I AM GLAD YOU HAVE JOINED US.
Available in days
days after you enroll
Watch these Videos
Available in days
days after you enroll
Coached by Cathy Call
Available in days
days after you enroll
Courses Included with Purchase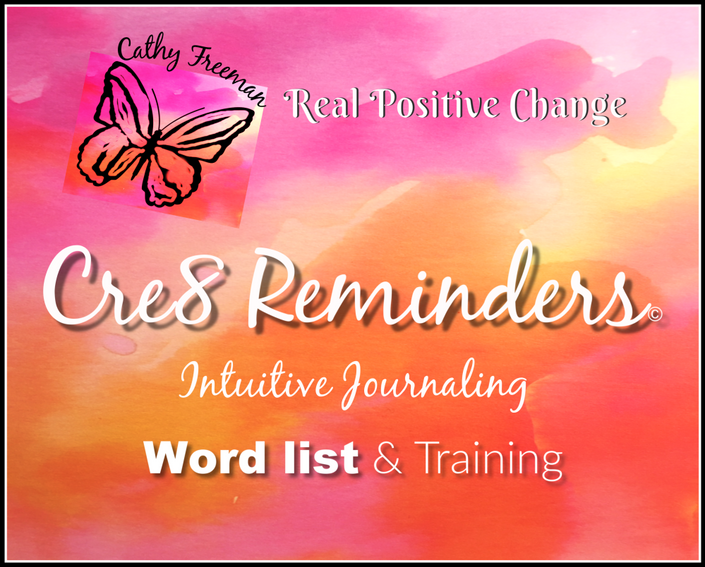 Word List for Cre8 Reminders© & Instruction (Membership)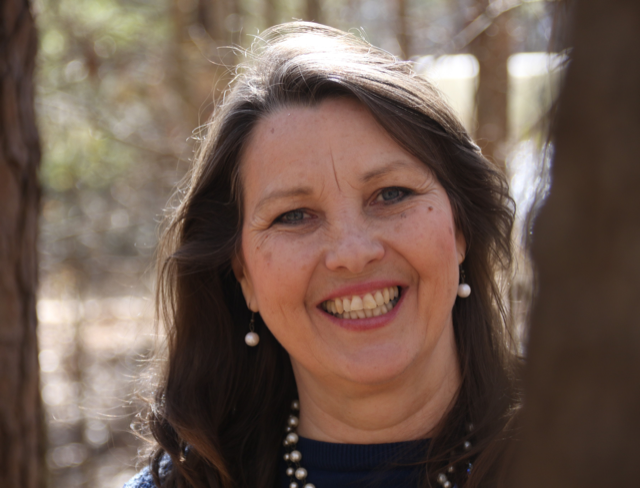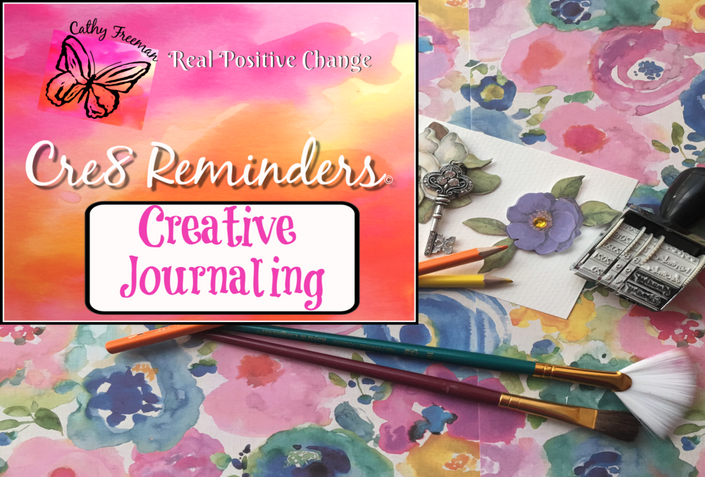 Cre8 Reminders© Creative Journaling (Membership)
Visualize Your Thoughts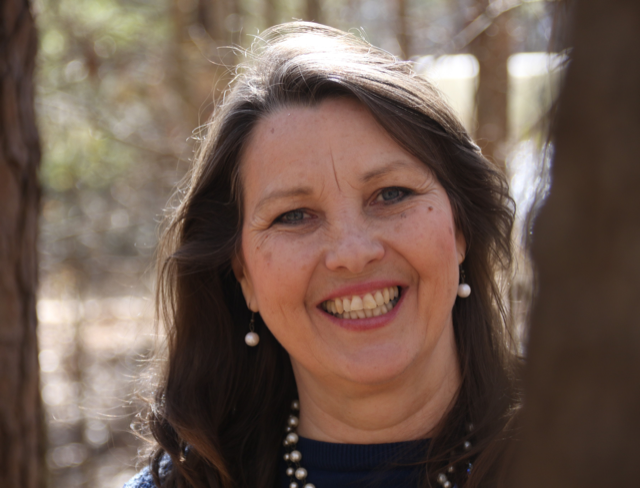 Original Price: $345
Frequently Asked Questions
When does the course start and finish?
The course starts now and ends when you cancel your monthly membership. It is a completely self-paced online course - giving you the freedom to work at your own pace. I will continue to add information and video examples of creative journaling each month
How long do I have access to the course?
After enrolling, you have unlimited access to this course and the information- across any and all devices you own - for as long as you are enrolled in this membership plan. Once you cancel you membership, you will no longer have access to the information and Cre8 Reminders© list.
When can I access these courses?
You will have full access to all of these courses as soon as you join the community
Will my subscription automatically renew?
Yes! All subscriptions automatically renew until you cancel them.
If I purchase one of these courses separately, can I keep it?
Yes! Any courses that you purchase separately are for your own personal use. They may not be duplicated or use commercially without my consent.